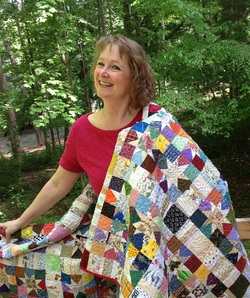 Hi! My name is Bonnie K Hunter, and I am a Quiltaholic! Not a day goes by that I am not dreaming, plotting, planning, cutting, stitching ((and un-stitching!)) on SOMETHING Quilt-Related!
I am honored and blessed to share my love of scrappy quilts through traveling this wonderful world of ours --visiting quilt guilds and shops and giving lectures & workshops, wherever they may be.
Visit my Calendar and you just might find me appearing somewhere near! I'd love to meet you!
Take some time exploring the website. You'll find lots of tips & techniques, and many free scrap patterns to help you put that precious stash to good use! If you like what you find in the free-stuff, check out my Books!
I enjoy writing a regular column for Quiltmaker Magazine called "Addicted To Scraps", helping and hopefully inspiring you to put your own Scrap User's System to work to create more quilts in less time!
I'm busy in blogland and on facebook--I just love being connected to Quilters! Visit my Blog to keep up with my doings! We've got free tips, techniques and patterns running over there too! Not to mention recipes and other good stuff.
NEW! Quiltvillle's Open Studio for Facebook! a place to Sew, Share & Grow! Feel free to share photos of whatever project you are working on! Ask questions, leave answers for others -- treat this group as our Online guild! Please SHARE and INVITE all your quilting friends to join us!
Quiltville's Quilt Cam! I've installed a Live Quilt-Cam in my studio! Occasionally I will turn it on when sewing at the machine so you can sew along with me! Check it out HERE! You will find the archives listed for your viewing pleasure!
---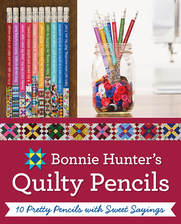 Coming soon to the Quiltville Store - expected delivery date: May, 2018!

Each of the 10 Quilty Pencils are wrapped in my quilt designs and feature some of my most favorite sayings. Purchase a set for yourself, and one to give as a gift. Be watching for the updates of when they are in house and available for purchase.
​
​
Write happy with quilty pencils!
Sharpen your creativity with colorful patchwork pencils! Featuring photos of quilts from best-selling author Bonnie K. Hunter, this 10-pack of pencils is so pretty, you won't want to share. The quotable quilter shares her signature quips on each pencil, with humor that's instantly relatable to creators of all types. Grab this #2 HB graphite pencil set for yourself, your friends, and anyone who could use a smile.
Set of 10 pencils with inspirational quotes from celebrated quilter Bonnie K. Hunter
Colorful patchwork scrap quilts printed around each quality #2 HB graphite pencil
Boxed set is a perfect gift for quilters, sewists, and creative makers
​
---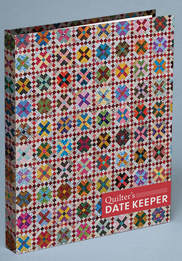 Quiltville's Date Keeper! Coming in May, 2018! Stay Tuned!

Celebrate important dates with a quilty keepsake calendar
​
Keep birthdays, anniversaries, and special occasions at your fingertips forever. Masterful scrap quilter and best-selling author Bonnie K. Hunter shares a perpetual calendar you can use year after year. Filled with inspiring quotes and quips, this album of 60 gorgeous quilt photos will be a favorite of quilters, especially Bonnie Hunter fans. Enjoy bonus quilting essentials in the back of this special keepsake planner that you can stash in your purse, at your desk, or by the sewing machine.
Keep all your dates in one quilty place with a perpetual calendar from Bonnie K. Hunter
Enter dates only once—no need to transfer to a new calendar every year
Flip to the back for handy quilting tips and tricks, with Bonnie's quips and quotes throughout
Also coming in 2018: Be watching for the December release of my NEXT book, String Frenzy! (Can't wait!)
---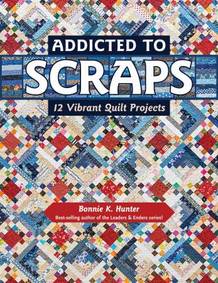 My most recent release, Addicted to Scraps, is in house! Click
HERE
to order!
In this book you will find 12 beautiful quilts all inspired by blocks found in my Addicted to Scraps column with Quiltmaker Magazine!
​Preview all of the quilts
HERE.
I have loved each and every block that has appeared in my column, and many of them begged to be made into full quilts, and this book is the result of my play.
I hope you enjoy it as much as I do! It will be available for pre-order in the Quiltville Store as soon as I get back from our Quiltville Mediterranean Cruise and I have a chance to post about it!
I am also excited about a couple of other things making their debut:​
---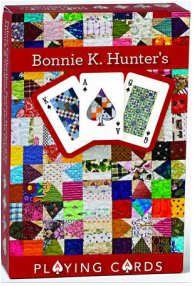 Quiltville Playing Cards are HERE!
Find them in the Notions, Rulers & Tools section of the
Quiltville Store
!
At $5.00 a pack, you'll be ready to play hours of quilty fun with family and friends.
Great for gifting too!
MY photo is the Joker! Too much fun!
---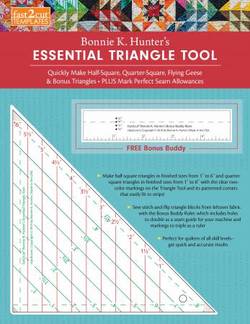 And my long awaited Essential Triangle Tool is available for order and should be arriving Mid-December! I have worked with specialty rulers for many years, and while I have loved them, there were always a couple of things I wished I could change so that they would work better for me.
For instance -- two rulers in one, instead of two separate rulers. Both rulers marked in FINISHED size so there is no guesswork. Easy to read lines and numbers in 2 colors to keep things simple. And NO FLIPPING of the ruler causing you to get lost!
Also included is my Bonus Buddy ruler with holes for marking your proper seam allowance on your machine. This ruler comes with a "bonus line" for easy marking of stitch & flip corners, giving you a bonus triangle in an already FULL USABLE SIZE, no sliver trimming down to the next measureable size available on your ruler.
​Find it in the Rulers, Notions & Tools section of the
Quiltville Store
.
---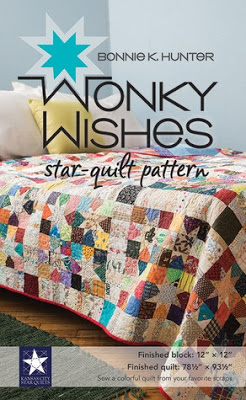 My new Single Pattern Release with C&T is WONKY WISHES!
Construct this bright and colorful quilt with whimsical wonky stars from your stash of 2 1/2'' scrap squares! EVERYTHING goes!
Sew a field of wonky stars atop colorful scrappy squares and low-volume, string-pieced sashing. Easy rotary cutting and simple patchwork make this pattern ideal for beginners, with pressing tops for perfect results!

​Wonky Wishes is available NOW in the Quiltville Store!
---
Other Bonnie K Hunter Titles in the Quiltville Store!